We are delighted to be able to open our orders on this year's Christmas 2022 Food offering including organic turkey, ham, pork, beef, and breakfast packs. Available to order by email, availability is on a first-come-first-served basis and if a deposit has been received.
Collection at the farm is available from Wednesday 21st – Friday 23rd December. Collection points will also be in place around the Dublin area, in Malahide, Finglas and Sandyford from 21st to 23rd December. Last orders are strictly Friday 16th December at 5pm.
Click download button for order form and prices. Please complete and email to shop@rockfarmslane.ie
Organic Pork & Beef
We will have a limited supply of our popular organic pork and beef including:
Pork chops
Pork roasts
Dexter top of the round or eye of the round roasts
Steaks
Burgers
Sausages
Organic Christmas Breakfast Packs
Start Christmas morning with our Organic Christmas Breakfast pack.
Each Pack includes:
Organic Breakfast Pack
1 dozen (12) eggs
2 packs of dry cure bacon (200g)
2 packs of breakfast sausages
We are offering organic breakfast packs to accompany any turkeys and/or hams orders.
Organic Hockenhull Bronze Turkeys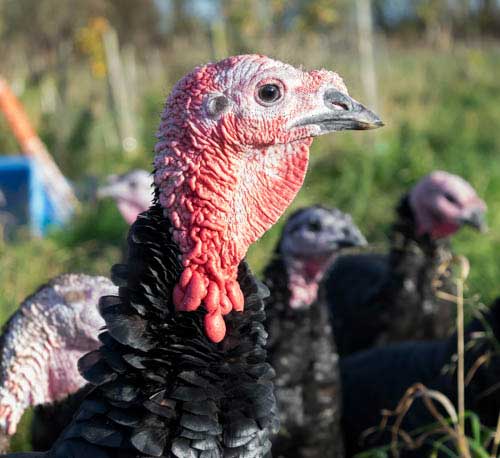 Our turkeys are certified organic Hockenhull bronze turkeys, which have been reared as free-range outdoor birds in our chemical free organic certified meadow grasslands. Bronze turkeys thrive outdoors and by grazing them on grass with top range organic feed, we produce happy, healthy, and well-flavoured birds for your Christmas feast.
We have a limited supply of weights up to 20lbs (9kg) and will be allocated on a first-come-first-served basis. There will also be larger birds for those who require.
Organic Ham
This Christmas we also have a selection of dry cured hams (on and off the bone) for sale from the farm. This will be from our outdoor reared rare breed pigs.
Our organic hams are low in salt (sodium nitrite level under 50 mg/kg) without added nitrate, phosphate or added water.
Minimum order weight for organic ham is 2.5kg off the bone or 3kg on the bone.
To Order:
To place your order please fill in the order form and email to shop@rockfarmslane.ie
If you would like to see the full brochure, please reply here now or if you have any further questions email shop@rockfarmslane.ie.
We look forward to hearing from you soon!
On behalf of Alex and Carina Conyngham and the Rock Farm Team