Come celebrate the start of Summer at Rock Farm Slane with the Slane Food Circle – Bealtaine Celebration and Farmer's Market in association with Boyne Valley Food Series.
This Sunday 1st May – 12-4pm
This Sunday (1st May) don't miss our FREE one day Boyne Valley Food Series event.  Open to one and all (especially food lovers) as we will be hosting members of Slane Food Circle who will have their food, drinks and ice creams available for you to sample and buy on the day.  Plus, Rock Farm Slane's Recreational Tree Climbing Crew will be offering tree canopy experiences – pre booking essential see below for more details.
The day starts at 12pm and finishes around 4pm – free car parking is available and we will have refreshments available for you to enjoy as you take a tour of the market and farm.
The day includes:
12pm – Bealtaine ceremony
2pm – Farm walk with Alex Mount Charles
12pm – 4pm Recreational tree climbing: €39 for 2.5 hours
12pm – 4pm Glamping tours
12pm – 4pm Slane Food Circle and local producers' market
How to book your ticket:
Entry is Free but we ask you to register for your complementary tickets here.  You can also book in for one of our Recreational 2 hour tree climbing experiences being hosted on the day by our very own Goodleaf Tree Climbing Crew. Priced at €39 per adult and €29 per child (over 8yrs) – pre booking is essential.  You can book tree climbing when you register for tickets.
Come meet the Slane Food Circle Producers
Each of the Slane Food Circle producers will be at the farmers market so you will get to meet them and hear their story.
Boyne Valley Blue Cheese
Michael Finegan is well known both locally and nationwide for his award winning blue goats cheese from his own herd of 300 milking goats
Cockagee Cider, Mark Jenkinson
Mark Jenkinson is the proud winner of the Best Medium Dry Cider in Ireland award at the
Cider-Ireland Craft Cider competition (Slow Food Ireland Applefest 2013. Mark uses the
ancient technique of Keeving to produce this fine, high quality dry cider.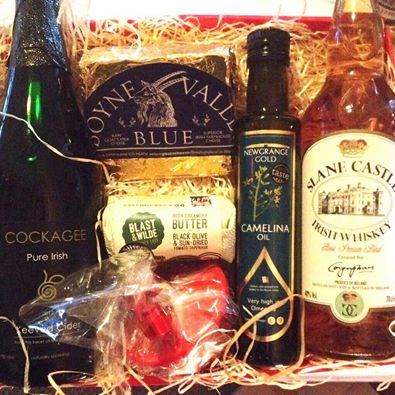 Des Crinion – Stackallen
Des Crinion is an organic farmer producing cheese, ice cream, eggs and salad crops just
outside the village of Slane
Newgrange Gold
Newgrange Gold Rapeseed and Camelina Oil is grown and produced at Crewbane in the heart
of the Boyne Valley. The oils are 100% traceable because the rapeseed is grown, pressed and bottled entirely on the farm.
Rock Farm Slane & Conynghams
Carina Mount Charles and her husband, Alex, produce a variety of organic vegetables, fruit,pork and beef throughout the year on the Rock Farm under the Conyngham's label.
Shalvanstown Organic Farm
John McDonnell, Shalvanstown is an organic farm and produces a range of organic beef and lamb, cereals and field vegetables
The Whole Hoggs
Peter & Susan Whelan run a free range pig farm outs ide Slane. They produce gourmet sausages and dry cure their own bacon along with charcuterie. They also run a small herd of dexter cows.
Hilda's Homemade

Artisan producer of homemade luxury preserves, conserves, chutneys, jellies, fudge along with many other homemade delights. See the range on
Facebook
Hog Roast Direct
Hog Roast direct is the north east's premier Hog Roast and Catering Service. We are proud to serve the north east especially Dublin, carlingford and Belfast.
Excellent selection of locally produced soaps and skincare available to purchase in the Rock Farm Shop